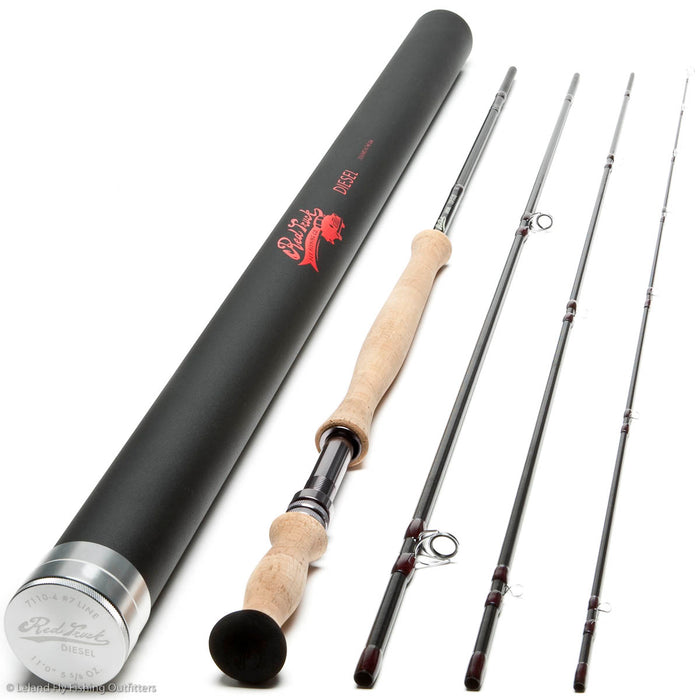 Red Truck Diesel 7wt 11ft Switch, 4 Piece, 7110-4
Original price
$479.99
-
Original price
$479.99
Our most versatile steelhead rod.
--
Steelhead Switch Rod:
You string up your switch rod on the tailgate of your pick up, grab your tips, a spool of 12lb mono, and a box of flies and hit the trail. You meander through redwoods until you emerge at you favorite run. Several large boulders make for perfect steelhead holding water. You cast you fly upstream of the first boulder and let it soak. A big upstream mend just as your fly is over the rock and your swing starts. Your confidence is not shaken when you come up empty handed… after all you are swinging for chrome. As the day nears an end you switch it up to indicators and pull a fish out on the last boulder.
The Red Truck 11ft 7wt is your Steelhead switch fishing solution, the one best answer for steelhead fishing anywhere. From the clear waters of the Trinity River to the Klamath River the Red Truck Balanced Steelhead Switch Fly Rod will make every cast and mend easier. The switch rod is the perfect set up for most California water and is the stand out do it all rod from swinging to nymphing.
The Red Truck Diesel "Steelhead Switch" Fly Rod: Our most versatile Steelhead rod, at 11 foot for a 7 weight, this rod is balanced to cast everything from large intruders to indicator rigs effortlessly to their target. This is our favorite Steelhead fly rod.
·A great rod starts with the grip. Red Trucks switch grip is not only ergonomic but enhances feel and efficiency of casting and fishing.
·Versatile design allows you to swing, skate and indicator fish.
·Sanded and precision fit ferules, where the rod pieces come together, allow for repairs in just 3 days and eliminates the need for you to ship the entire rod back to us.
·Effortlessly cast heavy indicator rigs.
·The extra length makes roll casting and mending much easier.
·Powerful mid section and butt for ease of picking up heavy flies and tips.
·Hand made with incredible craftsmanship and premium components.
The Recommended Fly Reel: A perfect match for the Red Truck Switch Fly Rod is the Red Truck Migration 6Nine Diesel Reel. The sealed drag, dimensions and weight make this reel an excellent reel to hang on your Red Truck Switch Rod.
·The sealed drag system provides perfect amount of tension to fight large fish.
·Machined from solid bar stock aluminum this reel will be appreciated for generations to come.
The Recommended Lines: This outfit balances best with a the Leland BC 25 lb running line, a 450 gr Skagit head, and set of Airflo Flo Tips. These lines enhance the feel and performance of your outfit.
·Interchangeable design allows you to easily change tips or heads for water conditions
When you put this all together you have an outfit that is incredibly easy to fish, mend, and cast. You are in for a treat when you experience a truly balanced rod with the Red Truck Steelhead Switch Rod.

Where will your Red Truck take you?