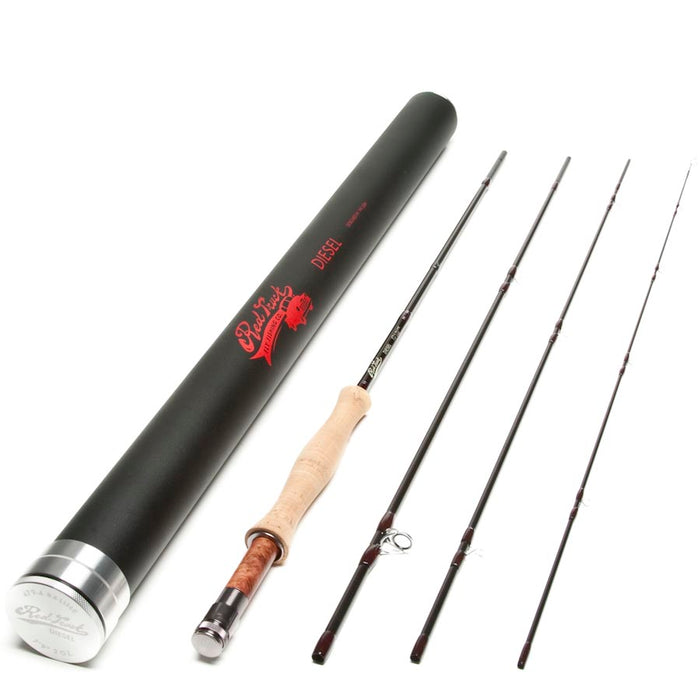 Red Truck Diesel 4wt 7ft 9in Fly Rod, 4 Piece, 479-4
Original price
$409.99
-
Original price
$409.99
Backpackers and backcountry anglers will feel at home with this rod designed for your next adventure.
--
Backcountry Fly Rod:
In the California backcountry, small streams, creeks, and lakes can be found around every corner. What better way to spend the day after hiking than to pull out your fly rod and have some fun or maybe even catch dinner? As the smell of trout cooking wafts up from the camp fire your friends will understand why you saved a few pounds for your fly fishing gear.
The 7ft 9in 4 weight is your backcountry fishing solution, the one best answer for fishing the backcountry anywhere. From the Golden Trout Wilderness to Emigrant Wilderness the Red Truck Backcountry Fly Rod will stand up to the rigors of backcountry fly fishing. The backcountry is diverse and you need a rod that will pack down small and fish everything from lakes to tiny creeks.
The Red Truck Diesel "Backcountry" Fly Rod:Designed and balanced to fish the backcountry. The Red Truck Backcountry Fly Rod has the perfect action to cast variety of different rigs necessary to be successful in lakes, creeks and small rivers. Versatile, accurate, and packable this rod is a joy to fish when in the backcountry.
·A great rod starts with the grip. Red Trucks full wells grip is not only ergonomic but enhances feel and efficiency of casting and fishing. Built with top quality cork.
·Matte finished reducing rod glare, reflection on the water caused from shiny rods, which can spook fish in clear water.
·Sanded and precision fit ferules, where the rod pieces come together, allow for repairs in just 3 days and eliminates the need for you to ship the entire rod back to us.
·Present dry flies perfectly every time.
·Powerful mid section for when the wind picks up or casting streamers in lakes.
·Delicate tip for tippet protection.
·Packs down to 26 inches.
·Hand made with incredible craftsmanship and premium components.
Where will your Red Truck take you?