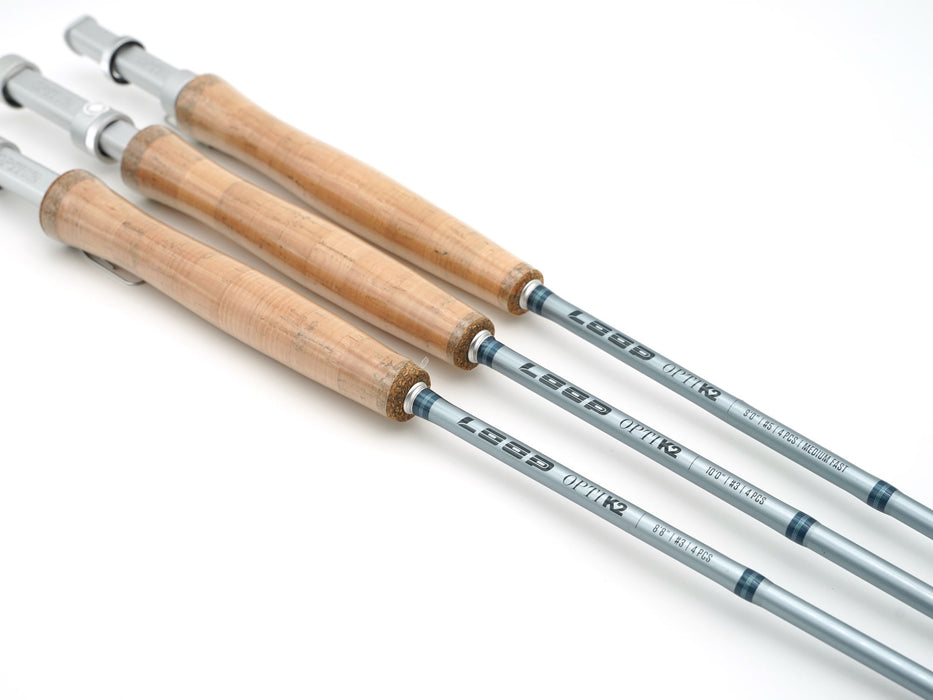 Loop Opti K2 single-hand Fly Rods
Sold out
Original price
$549.00
-
Original price
$569.00
LOOP Opti K2 Single-Hand Fly Rods

The K2 is built for performance.
It has a nice action and quick recovery.
It has been extensively tested in the US and is great performing rod with a nice price tag.
The K2 Series of rods were designed for total fishability and performance.  Beginning with their cast ability, from a beginning angler to an experienced angler.  A very sensitive tip to help optimize ability to not only land fish, but help the angler feel the rod load.  This is done from a complex variation of Carbon Fiber that increases strength, but at the same time offers highest possible storage of energy to transfer during casting. 
The complex mix gives this rod amazing strength during physical  The storage and transfer of energy allow the angler to feel the rod load, let it do work to shoot out line, but sensitive enough to indicate the most subtle of strikes.
3100 – The K2 Euro-nymphing rod is the specialist rod for this popular method of fly-fishing. The refined flex-plane of the blank offers ultra connective drift control. Armed with a down-locking reel seat for enhanced balance and slim profile half-wells for increased sensitivity. If the fish start feeding from the surface it also provide you with a lovely action for dries.  Great reach and control of the line and a lot of fun to play fish with. See review on Fly & Lure >>
388 – Delicate presentations, thin leaders and good precision. These are the words that best describe this rod. If spooky fish on small waters is your aim then this is the perfect tool.
490 – Just like its little brother (388) the 490 is about presentation, thin leaders and precision. A smooth tempo is what the rod likes. Although, if some distance is needed it has the resources.
590MF – This rod loves a smooth casting stroke and when given it will present your imitation as it is supposed to. This rod is dedicated for presentation, thin leaders and precision. When fighting your fish you will feel it all the way down to the cork.
590F – This is a very versatile all round 5 weight rod. It prefers a little higher tempo and wants you to feed it with line. If tight loops and precision at distance is your game, this is the one for you. Dries or smaller streamers, the choice is yours.
596 – Large imitations on still waters, sinking lines, dries at long distances, streamers or heavy nymph rigs. Under or overhand casting the 596 excels on all of the above and will just not give in. It can hold loads of line in the air and will not disappoint on shorter distances.
696 – Streamers, large dries and distance, words that fit well with the 696. The rod really excels when you have to push through wind and it absolutely loves to go toe to toe with big trout.
------
The introduction of our new Opti K2 single handed fly rod range is a direct result of the success of the K2 dedicated euro – nymphing rod and the demand for a lightweight trout specific series of rods. During extensive testing worldwide our aim was to provide a lightweight responsive action fly rod built for those specific conditions that our angling community are looking for. Finished in a deep gunmetal grey the K2 series of rods are designed for the discerning trout angler.
All Rods are 4 piece rods, see graph at the bottom of the page to see rod specs. LOOP rods are backed by a fantastic warranty program.
OPTI K2 Rod MODEL CHART
| | | | | | |
| --- | --- | --- | --- | --- | --- |
| MODEL | LENGTH | LINE # | TEMPO | WEIGHT G | PCS |
| 3100-4MF | 10' | 3 | MF | 88 | 4 |
| 388-4 | 8'8" | 3 | MF | 82 | 4 |
| 490-4 | 9' | 4 | MF | 83 | 4 |
| 590-4MF | 9' | 5 | MF | 88 | 4 |
| 590-4F | 9' | 5 | F | 90 | 4 |
| 596-4 | 9'6" | 5 | MF | 93 | 4 |
| 696-4 | 9'6" | 6 | MF | 99 | 4 |