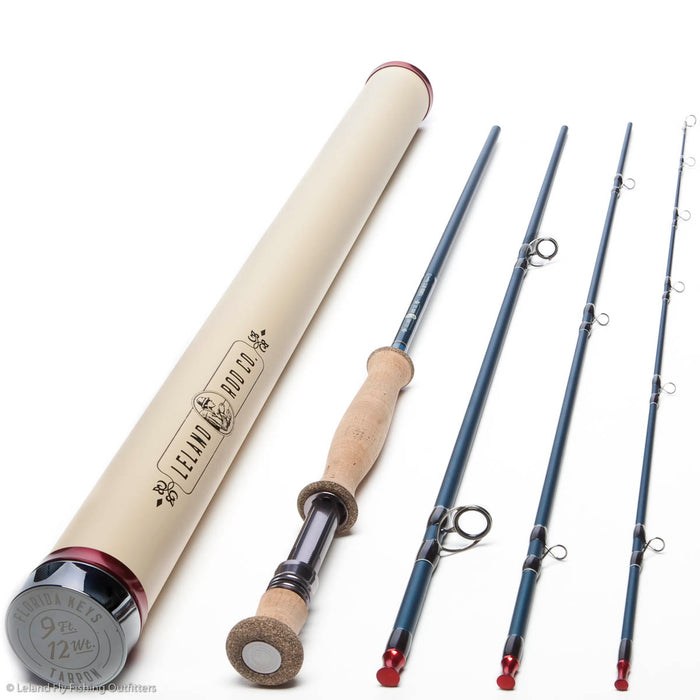 Florida Keys Tarpon Fly Rod 1290-4 9' 12wt
Save

20

%
Save

20

%
Original price
$749.00
-
Original price
$749.00
Accurate and powerful, the perfect fly rod when casting for tarpon.
Tarpon Fly Rod:
Reel Seat: Uplocking, anodized aluminum
Guides: Hard-chromed steel
Handle: Proprietary Leland Grip
You just arrived at your favorite Tarpon trail in the Keys. The guide stakes the boat and the waiting game begins. As you BS with your buddy the guide remains vigilant. Eyes squinted searching the horizon as if he were Ponce de Leónlooking for the first sight of land. You see the guide's expression change and know something is up. Quickly you run through your Tarpon maxims you have acquired over the years. Lead 'em, strip set, bow, and fight with the butt of the rod. Just as soon as the guide gives the ok, you make your cast and it's on the money. You let your fly sink down to the level of the fish and begin stripping. A 90 pounder darts to your fly and you know you're in for it. You see the fish inhale you fly and you strip set HARD. Tarpon on! TARPON ON! You feel the dip down and you know the jump is coming… Maybe you will land it maybe you won't after all it's the Silver King.
When you finally book that epic fishing trip to test your skills against the Silver King, you better pack the right gear...as everything will be tested.
Important not to overlook is packing your casting skills.
Although the tarpon is an aggressive predator, their speed on the flats is deceiving and your cast must be right on the mark to be rewarded with an "eat." Controlled distance, accuracy and even a subtle presentation is required. Marrying your casting skills with a well-balanced, true-tracking and efficient casting fly rod is a must.
This is exactly why Leland Rod Co. offers the Florida Keys Tarpon fly rod. Designed for the demanding casts that tarpon fishing requires, you'll cast all day without fatigue and might be rewarded with a catch of a life time.
Of course our Tarpon fly rod is built with saltwater safe materials and components and is finished with the attention to detail that few rods today embody. Now you have no excuse not to cast well.

The best tarpon fly rod available.
Only the best materials and components used to craft this rod.
Attention to finish detail is unmatched.
Super-powerful for long casts and big fish battles.
Best warranty in the business.