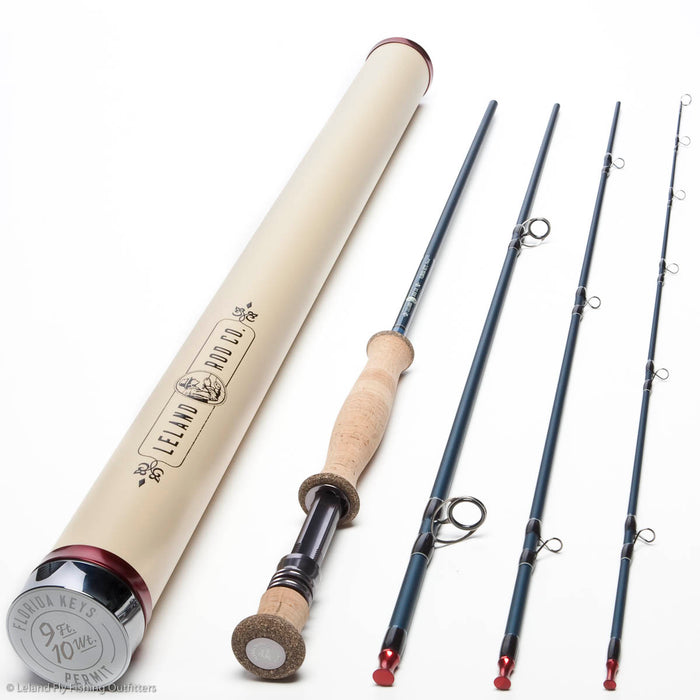 Florida Keys Permit Fly Rod 1090-4 9' 10wt
Sold out
Original price
$749.00
-
Original price
$749.00
When a spooky permit presents itself, you only get one shot. Better do it right with a Florida Keys Permit fly rod.
Permit Fly Rod:
Reel Seat: Uplocking, anodized aluminum
Guides: Hard-chromed steel
Handle: Proprietary Leland Grip
Your guide is polling you along a white sandy flat. You are completely alert and looking for any sign of that v shaped tail! You spot one! A big one! The fish is happily eating about 60 feet out at 1 o'clock. You take a deep breath and begin casting your lead eyed crab with the wind blowing into you hard. Three quick false cast until you deliver the fly right on the money. Just as you begin to twitch the crab the tail shoots up into the air. You strip set hard and the fish begins to pull of line at an alarming rate. Permit on!
Even on the best of days, fly fishing for permit can be frustrating.
This wily fish is known for it's nervous nature and keen eye site. Accurate casting is a must to have a chance and rarely do you get a follow-up shot.
For this exact reason we designed our Florida Keys Permit fly rod. It's well-balanced, stable, efficient and true-tracking. What does this really mean to you?
Accurate casts at controlled distances with the right presentation. So give yourself the best chance to tie into a permit and enjoy every cast.
Take one of our Florida Keys Permit rods on your next saltwater adventures.

The world's best Permit Fly Rod!
Only the best materials and components used to craft this rod.
Four-piece model makes for easy travel and storage.
Impeccably finished and saltwater safe.