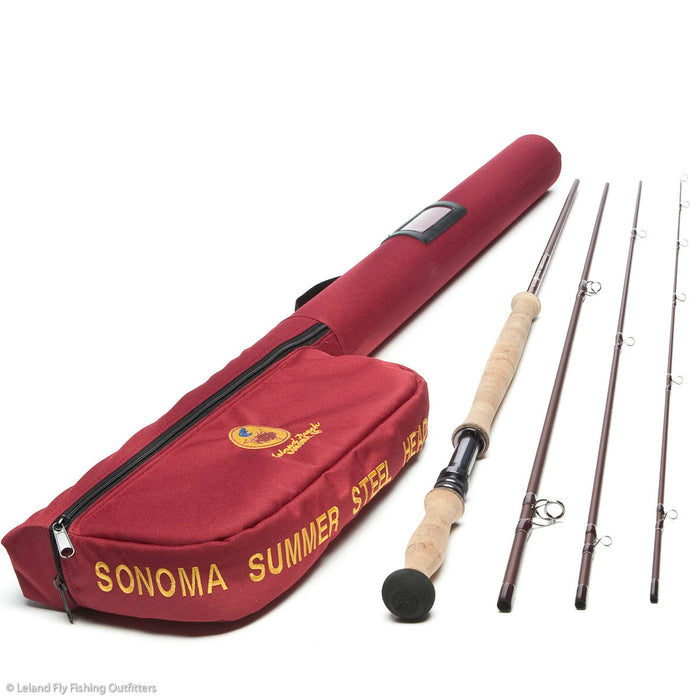 Sonoma Steelhead Spey Rod 6120-4 12' 6wt
Sold out
Original price
$400.00
-
Original price
$400.00
If you're new to two handed fly casting, you just found the perfect fly rod. Great for learning, perfect for fishing.
--
Leland Rod Co. Summer Steelhead 12' #6, 4-piece Fly Fishing Rod:

It's always summer in California!
The concepts and principles of two-handed fly casting are pretty basic. New line dynamics can be practiced and mastered with a two-handed rod and then applied to just about any fly casting situation. What is often overlooked is what two-handed fly rod is best to start with.
At Leland Rod Co. we have the answer. It's our Sonoma Steelhead Spey rod. Unlike other Spey rods promising over the top performance, we designed this rod to be stable, balanced, true-tracking and efficient when cast. We also designed the taper to be a bit more forgiving. The result is a fly rod that offer a slightly broader "casting window" for easier timing. This aids a newer caster with the critical and necessarily fluid movements required to cast efficiently.
Moreover, this rod transitions well into the real fishing world, as it easily casts two-handed line systems of all types. Of course we use only the best in blank materials and components, but the secret sauce to this fly rod is in the design.




The perfect Spey rod for summer steelhead and larger trout.




Four-pieces for easy travel and storage.




Efficient rod action to easily cast Scandi or Skagit heads.




Includes Cordura covered rod tube for protection.




Top-quality materials and components.