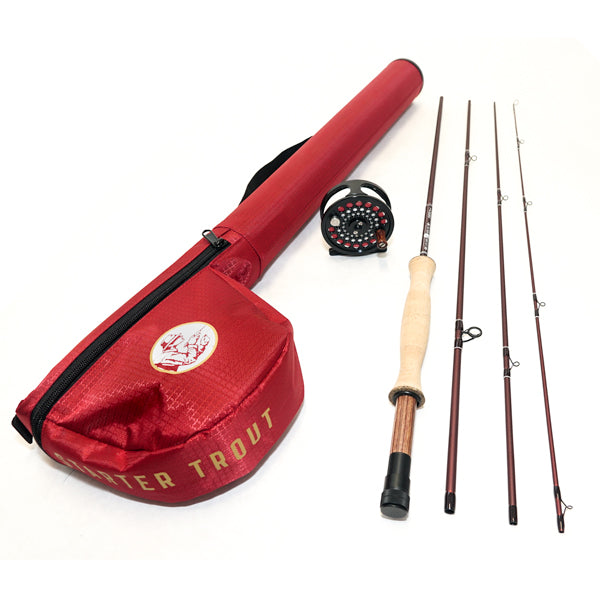 Starter Trout Fly Fishing Outfit 8' #5 4pc
Sold out
Original price
$249.95
-
Original price
$249.95
Leland Starter Trout Fly Fishing Outfit: Ready To Fish!
Efficient and balanced 8′  5wt, 4-piece fly rod
Fully machined click and pawl reel
Easy-casting WF5F Leland fly line with 12′ 4 leader attached
Rip-stop nylon rod and reel carrying case
At its root, fly fishing is quite easy. The goal is to use a weighted line to present a near-weightless lure (called a fly) to a fish. Why then does fly fishing seem so confusing and intimidating? It might be all the fly shops offering all the brands, series and models of performance fly equipment. It might be all the fly patterns and fancy lingo tossed about in a fly shop. It might be that the "industry" of fly fishing simply forgot how fun and easy fly fishing should be…
Regardless of the reasons, we at Leland, believe that fly fishing is an outdoor activity for just about everyone and we do our best to make it simple and enjoyable. The defining attribute of our sport is the unique way we deliver our fly to the fish. It's called a fly cast and done correctly, it's easy, fun and beautiful. The goal in fly casting is to efficiently control your fly line and place your fly where you want it. Forget about performance: high line-speed, tight loops, double-hauling and distance. Instead, work toward an efficient, graceful and accurate cast. With this approach, you'll earn your fish…not just catch them.
With this in mind (and thirty years of experience) we designed the right outfit for anyone who truly wants to enjoy this wonderful sport. Balance and efficiency are not words we take lightly here at Leland. We believe those two adjectives define a worthy fly fishing outfit at any price, and they live in our new Starter Trout Fly Fishing Outfit. With it, you'll form beautiful loops of fly line, place your fly accurately with a subtle presentation, and truly enjoy this wonderful sport.
This outfit didn't happen by chance. For too many years, we've watched our students and customers struggle with the latest performance equipment and we decided to fix the problem. We did this by understanding the primary goal of this intimate sport…efficient control of the fly line. We designed a balanced and efficient fly fishing outfit that makes fly casting fun, easy and controlled. It's the perfect length and weight to catch panfish, small bass and trout in any stream. Put another way, this is the right outfit for anyone who's ever wanted to start fly fishing. 
Don't get caught buying a "starter" kit that isn't enjoyable to cast. Don't try to piece together your own fly fishing outfit with "on-sale" gear, only to find you've built a bad kit. Instead, trust us when we tell you this outfit is the solution you've been searching for. Heck, if you're not completely thrilled with our work, we'll give you a full refund. We're that confident we've done our job…making fly fishing and most importantly, fly casting more fun.
This balanced and efficient, fly rod, fly reel and fly line is your "gate key" to go explore. With it, you'll enjoy casting and fishing. With it, you'll find yourself in beautiful places with a reason to be there. With it, you'll earn each fish with efficient and accurate fly casts. So, if you've been thinking about taking up fly fishing, don't get bogged down with research. Get started the right way, with the right information and our balanced fly fishing outfit. You'll be on the water sooner than you think creating casts and memories worthy of your limited time away from work.
| | |
| --- | --- |
| Weight | 1.34 kg |
| Dimensions | 92 × 15.25 × 15.25 cm |