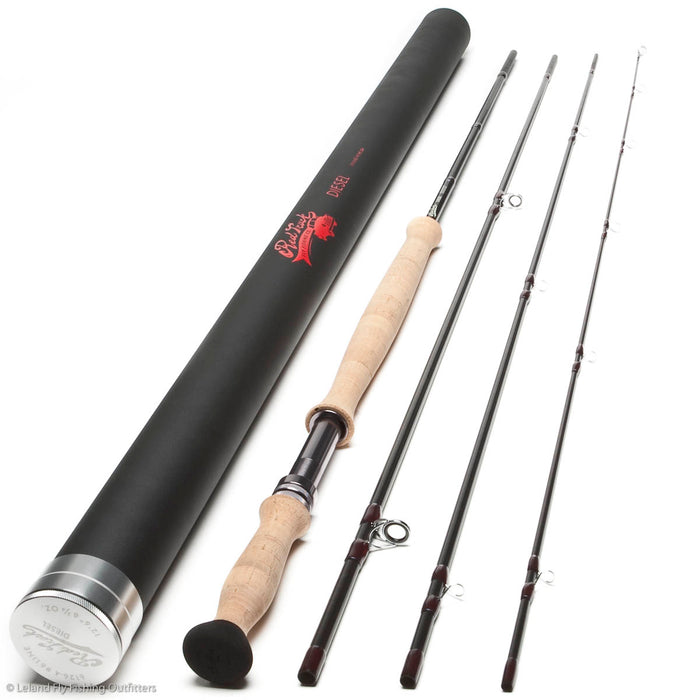 Red Truck Diesel 7wt 13ft 6inch Double Hand Rod, 4 Piece, 7136-4
Original price
$479.99
-
Original price
$479.99
The powerful Diesel 7136-4 will enable you to cover twice the water in half the time
--
Steelhead Spey Rod:
The first rains of the year have just come and gone. You rally a few friends to hop in the truck and head to your favorite run. You arrive at the run just as the sun is making its first appearance. Waders are put on and rods are rigged. You pass around the flask ceremoniously before you step into the water. Your first cast feels good and the second even better. The flow of the spey cast and the beauty of your surroundings inspire you to yell to your buddies "What a great day to be alive boys!"
The Red Truck 13ft 6in 7wt is your one best answer for steelhead fishing with a spey rod anywhere.
The Red Truck Diesel "Steelhead Spey" Fly Rod: Our largest Steelhead rod, at 13 foot 6 inch for a 7 weight, this rod is balanced to cast everything from large intruder style flies to skaters on the surface.  Whether you are a Scandi or Skagit style anger this rod will do both and is truly our favorite spey rod.
·A great rod starts with the grip. Red Trucks switch grip is not only ergonomic but enhances feel and efficiency of casting and fishing.
·Versatile design allows you to cast dry flies and heavy intruders.
·Sanded and precision fit ferules, where the rod pieces come together, allow for repairs in just 3 days and eliminates the need for you to ship the entire rod back to us.
·The extra length makes long casts and mending much easier.
·Powerful mid section and butt for ease of picking up heavy flies and tips.
·Hand made with incredible craftsmanship and premium components.
The Recommended Reel: A perfect match for the Diesel 7136-4 Spey Fly Rod is the Red Truck Diesel Chrome Fly Reel. Taking notes from the reels our grandfathers used this reel is durable, simple, and elegant.
·The click and pawl drag system provides perfect amount of tension to fight large fish.
·Machined from solid bar stock aluminum this reel will be appreciated for generations to come.
·Whether you are pulling off line or hooked up on a fish this reel screams fly fishing.
·Unlike most cork and sealed drags the drag system in this reel is not affected by cold temperatures.
The Recommended Lines: This spey rod balances best with a running line, a 540 gr skagit head, and set of Airflo FLO Tips. These lines enhance the feel and performance of your spey rod.
Where will your Red Truck take you?