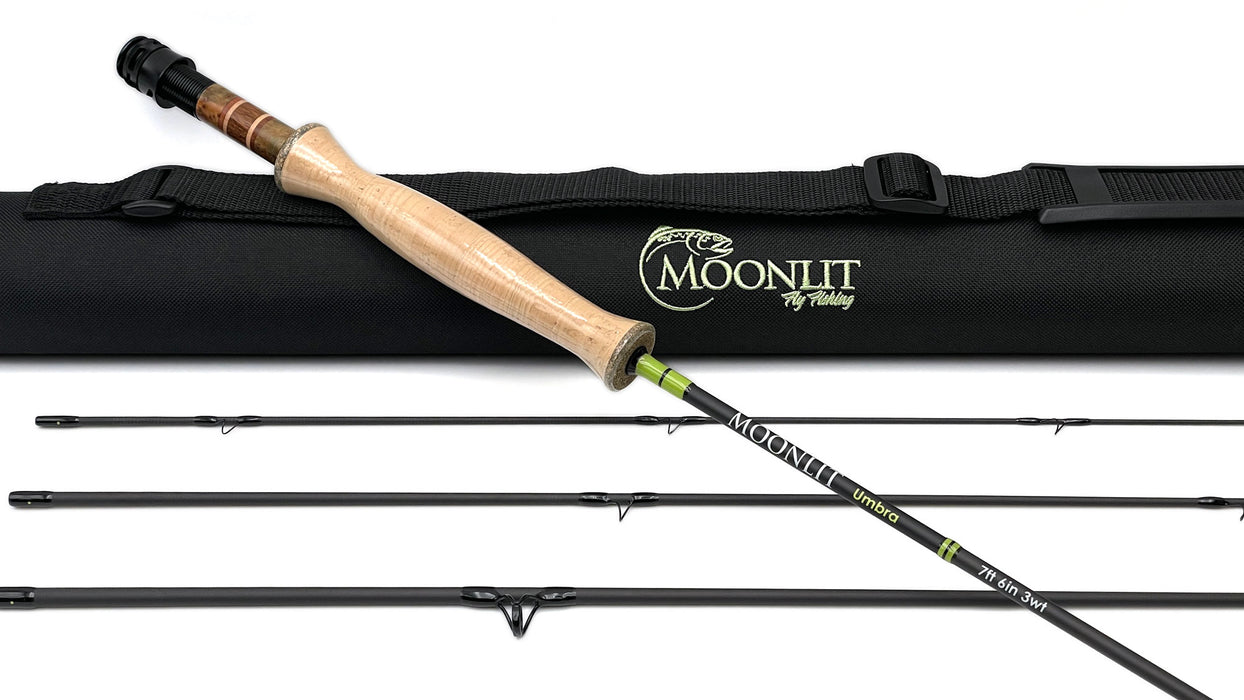 Moonlit Fly Fishing Umbra Fly Rod w/case
Save

23

%
Save

23

%
Original price
$219.99
-
Original price
$219.99
Sale $169.99 save $50
Umbra Graphite Rods

We wanted to create a graphite series of rods to pair with the Lunar Glass we are known for.  This series of rods gives anglers access to a rod that performs with rods more than twice its price point.  This is the rod for the angler who is working with a budget but wants a rod that performs like a more expensive rod.  This is a big part of what we are working to build is the highest performing and quality gear that every angler whether on a budget or not can enjoy because we believe all anglers should have access to the highest performing gear.  
With the special design and taper of this rod you get a surprisingly faster feeling rod.  These rods have a smooth tempo when casting, with very accurate tracking with the line and rod.  This allows you to achieve the most accurate casts, and line control.  You no longer have to sacrifice short and intermediate casting for a rod that can unload line.  Get both with the NEW Umbra Series of Fly Rods as you quickly and intuitively find your rhythm with these rods giving you a better more enjoyable experience.
Rods In The Lineup
7'6" 3wt 4 piece - 2.3oz
7'6" 4wt 5 piece - 2.5oz
9' 5wt 4 piece - 3.2oz
9' 8wt 4 piece - 4.3oz
9' 9wt 4 piece - 4.3oz
10' 3wt 4 piece - 3.3oz
10' 5wt 4 piece - 3.6oz
Attributes
The Umbra Series of rods incorporates the worlds leading technology, to create an extremely pleasant rod to cast full of versatility.
Softer tip for accuracy and feel
Softer tip with faster butt section adds for great versatility
Faster action gives great sense of control
Light in hand with excellent swing weight
Risk-Free Return Policy
To give you peace of mind we offer a 14 day return policy. With this policy you can return your rod within 14 days as long as it is new like condition, meaning plastic still on the cork, and no blemishes to the rod.  This allows you to put the rod in your hands and know you are getting exactly what you want.  We do this because we believe in the rods, and how much you will love them.  This policy will give you a peace of mind knowing you aren't stuck with something you don't like or want.  Customer is responsible for return shipping.
Lifetime Warranty
One thing we do differently in the glass world is offer an easy lifetime warranty. Instead of making you ship your rod into us for repairs, for a $50 warranty fee we send the replacement parts right to you so you are back to fishing faster.
Backed by a Great Brand, MOONLIT Fly Fishing and Nirvana On The Fly
You have probably seen our brand around social media quite a bit, we have a large following of customers that love to use our products. We are well know for the BEST performing furled leaders on the market and excellent customer service, as well as a great offering of quality barbless hooks loved by many pro fly tyers. We will stand behind this new series of  fly rods just like we do all of our products and we think you will love this rod series.
Heavily Tested & Approved by Many Fly Anglers

We have worked with our ambassadors to test and make sure these rods were ready and worthy to come to market, with the Moonlit Fly Fishing stamp of approval.  We are happy to say they are ready, and the excitement on these rods is building.  Those who were able to test them with our ambassadors didn't want to give them up.  Many times making sure they had them to fish the entire time.  With that we know you will enjoy the beauty of these rods aesthetically, and fall in love with their performance.  Don't underestimate these rods, and make sure you come join us on the Dark Side. Find the right size for what ever situation you need with this line up.
Recommended Lines
We recommend using the Nirvana Performance WF Taper Floating Fly Line or Moonlit Fly Fishing WF All Purpose Fly Line, or the Moonlit Fly Fishing Performance WF Floating Line.