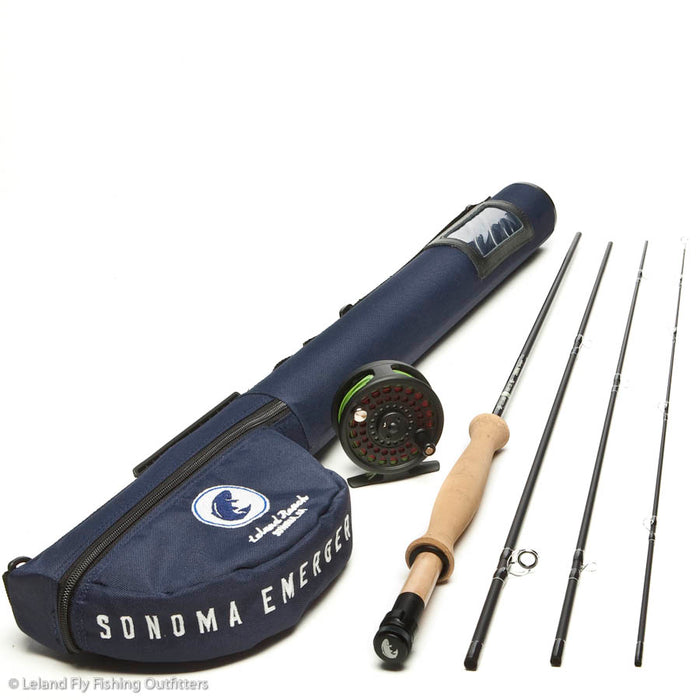 Sonoma Emerger Fly Fishing 7' 9" Combo Kit #4, Blue
Sold out
Original price
$224.95
-
Original price
$224.95
The Leland Sonoma Emerger is the best kid's fly fishing rod and reel outfit on the block. Your little one will be casting darts.
The Leland Sonoma Emerger:
"The best kid's fly fishing rod and reel outfit on the block!"
Nothing is more spectacular than the glimmer in a kid's eye when they hook their first fish, and the Leland Sonoma Emerger 7ft 9in 4wt Fly Rod Combo is there to deliver the magic time after time. It's more than just a youth fly rod and reel, it's an initiation to a pastime that will last a lifetime.
In keeping with Leland's standard for excellence, the Sonoma Emerger is built to stand up to the wear and tear that comes with learning to fly fish and mastering tight loops. Featuring a convenient four piece construction, the Leland Sonoma Emerger Youth Fly Fishing Combo travels easily in its matching blue rod and reel case.
The package includes a fly rod, fly reel, fly line and backing, and rod and reel case, meaning the sooner you get the Leland Sonoma Emerger 7ft 9in 4wt into a young fly fisher's hands, the sooner you'll have a fishing buddy to teach you a thing or two.
Of all the outdoor activities you can share with your child, fly fishing arguably is the easiest. Even on day one, minute one, your child will be wearing a big grin while fishing with you. No bait necessary, just some fake bugs. Put them in the water, where the fish are, and it's darn-near inevitable a fish will be caught. Start with panfish (perch) in a small farm pond. Catch a few and your child's confidence will grow. Next, you're off to a trout stream.
Start a family tradition of fly fishing together. Create meaningful memories that will last a lifetime and do it with our Leland Sonoma Emerger Fly Fishing Outfit. You won't regret a thing.
Far too often kid's fly fishing equipment is gimmicky with foam handles and crazy graphics. No corners were cut when designing our Emerger outfit. From our fly rod's youth-sized cork grip to our Leland "Pliny" fly line (a $60 value), nothing was done on the cheap. Why? Because your kid should have as much fun as you when fly fishing.
Truth be told, this little outfit will probably become your favorite small stream trout outfit...it's that good. Good luck getting it back from Junior, though. He or she will like it just as much as you will.
| | |
| --- | --- |
| Weight | 1.34 kg |
| Dimensions | 92 × 10 × 10 cm |
| Attribute | Blue |
| Size | Four Piece |