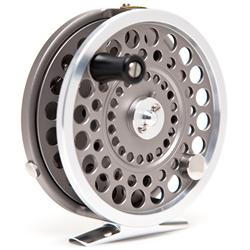 Red Truck Diesel 7/8 Fly Reel
Sold out
Original price
$299.99
-
Original price
$299.99
Taking its cues from steelhead angling traditions, the Diesel 7/8 blends classical aesthetics with contemporary function.
--
Red Truck Diesel Fly Reel 7/8 weight:
Taking its cues from steelhead angling tradition, blending classical aesthetics with contemporary function!



The criteria were fairly simple: the reel had to be functional, durable, and beautiful. It had to look and sound like a fly reel. It had to have the appeal to stand the test of time. In short, it had to deserve to exist. Fully machined from anodized aluminum, the Diesel is corrosion-, scratch-, and impact-resistant. The proven click-pawl drag system is dependable, simple, and easily convertible from right to left-hand wind. Should you need to apply more pressure on fired-up trout and steelhead, the exposed palming rim is there for you.




The Diesel fly reel was designed for fishing for steelhead on single hand rods with a variety of line systems. Some of our favorites are swinging with shooting heads, skating dry flies, and indicator fishing. Smartly-sized for summer steelhead and Alaska rainbows, the Diesel 7/8 has more than ample backing and works more like a large arbor fly reel, due to its refined dimensions.


The Diesel Fly Reel is machined with precision to keep even the thinnest running lines from slipping through the frame. When hooked to a fish, you'll rejoice in the Diesel's sweet sound, as the traditional "click and pawl" drag system sings its song. Not only does the click and pawl sound great but it's perfect drag range will keep you from loosing fish. The click and pawl design is truly the set it and forget it approach to landing more steelhead. . Although designed to pair well with a seven or eight weight single hand fly rod, this reel complements lighter switch and Spey rods, too.




Red Truck Diesel Fly Reels




When we set out to design the Diesel Series of fly reels, our main goal was to make reels that we ourselves would enjoy fishing forever. We jogged our memories for ideas from our favorite reels from the past and pored over our huge selection of modern designs, picking and choosing the features and styles that, to us, embody the perfect freshwater fly reel.