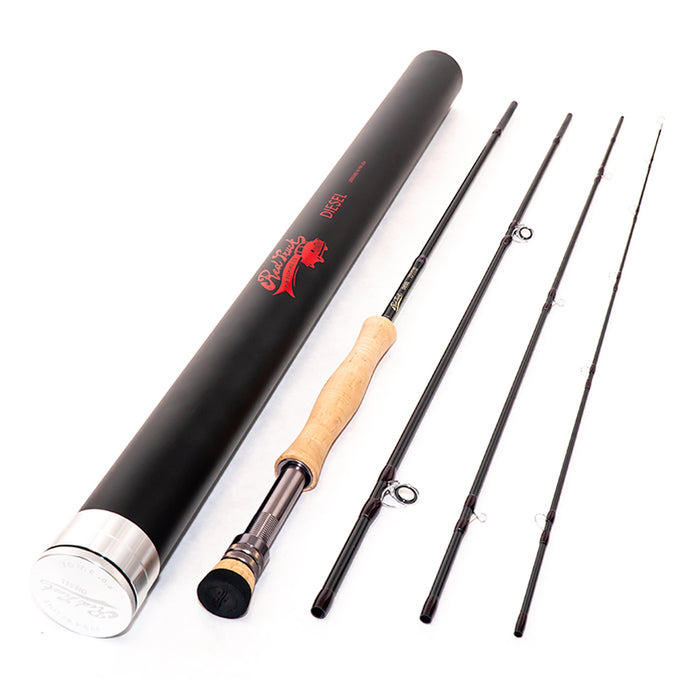 Red Truck Diesel 7wt 10ft Fly Rod, 4 Piece, 7100-4
Original price
$409.99
-
Original price
$409.99
This rod will be your saving grace when a 10 pound chromer takes your indicator toward the stones.
--
The ideal rod for chasing Silver Salmon, monster Rainbows, and chrome Steelhead!
Fishing  Alaska in July?  This 10 foot 7 weight is perfect for drifting flash flies in front of Coho or stripping mice patterns across the surface for aggressive Rainbow Trout.  This rod handles both full floating lines and sink tips like a dream and with it's fast action and strong backbone you'll be casting and fighting fish like a champ.
The Diesel 10 ft 7wt is also your Steelhead nymph fishing solution and is the one best answer for nymphing for Steelhead anywhere. From the clear waters of the Trinity River to the Klamath River the Red Truck Steelhead Nymph Fly Rod will make every cast and mend easier. Nymph fishing for Steelhead in California has a lot to do with perfect drifts the extra length and balanced line make mending significantly easier. Long and efficient drifts combined with a quick hook set are key in hooking steelhead while nymphing.
The Red Truck Diesel 7100-4 Fly Rod: Our only single hand Steelhead rod, at 10 foot for a 7 weight, this rod is balanced to cast large indicator rigs effortlessly to their target. Sick and tired of the chuck and duck? We were! Be in control with the Red Truck Steelhead Nymph Fly Rod.
·A great rod starts with the grip. Red Trucks full wells grip is not only ergonomic but enhances feel and efficiency of casting and fishing.
·Matte finished reducing rod glare, reflection from the sun hitting the rod blank caused from shiny rods, which can spook fish.
·Sanded and precision fit ferules, where the rod pieces come together, allow for repairs in just 3 days and eliminates the need for you to ship the entire rod back to us.
·Effortlessly cast heavy indicator rigs.
·The extra length makes roll casting and mending much easier.
·Powerful mid section and butt for ease of picking up heavy rigs and streamers.
·Hand made with incredible craftsmanship and premium components.
The Recommended Reel: A perfect match for this Red Truck Fly Rod is our Red Truck Migration 6Nine Fly Reel.  The Migration 6Nine by the Red Truck Fly Fishing Co. is one of the smoothest reels we've come across.  Fully machined and featuring a sealed drag, this reel is the perfect choice for those of you looking for the perfect reel for you 7-8 weight fly rod.  Not only is this reel amazing performance wise it's got the looks to go along with it.
·Machined from solid bar stock aluminum this reel will be appreciated for generations to come.
·Fully sealed drag system.
·Unlike most cork and sealed drags the drag system in this reel is not affected by cold temperatures.
Where will your Red Truck take you?