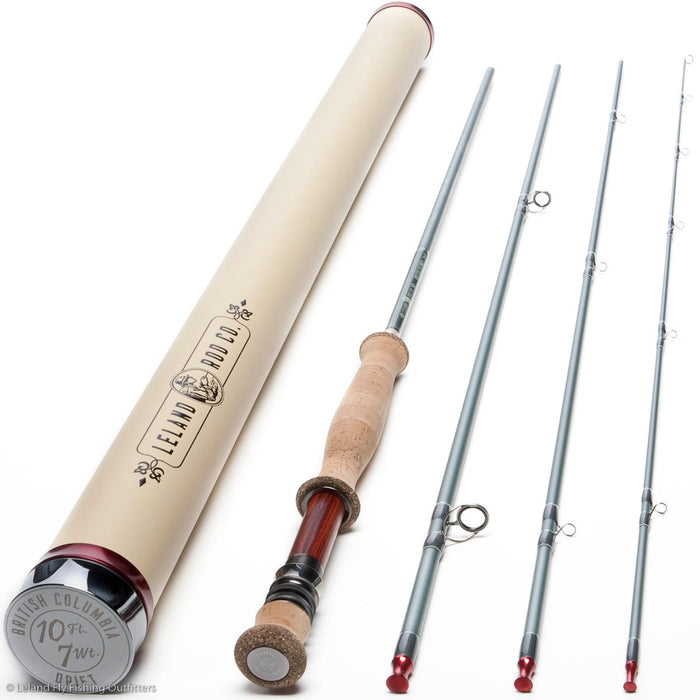 British Columbia Drift Steelhead Nymph Fly Rod, 7100-4 10' 7wt
Sold out
Original price
$695.00
-
Original price
$695.00
Steelheading with a single hand fly rod has never been so good!
British Columbia Drift Steelhead Nymph Fly Rod:
Line Size: 7
Length: 10 feet
Sections: 4
Blank color: Silt Grey
Reel Seat: Darkened nickel silver, uplocking
Spacer: Cocobolo
Guides: Blued chrome light steel wire
Handle: Proprietary Leland Grip
Action: Adaptive, Fast
Single digit temperatures and frosty fingers will make for a longer than usual rigging session. You tie on a big rubber legs and a dime sized glo bug under an indicator because you like to actually catch Steelhead. A big roll cast followed by a mend gets your indicator drifting down the bubble line. Just as you whisper to yourself "foam is home" your indicator dives toward the bottom. A strong hook set and the fight is on!
Not all steelhead return to spawn in a classic, broader rivers. Instead, many fish return to smaller rivers (almost streams). A switch or Spey rod is simply too long and cumbersome on smaller waters.
Casting our British Columbia Drift rod in tighter quarters is a dream come true for dedicated steelhead anglers. Whether you're nymphing or swinging, our 10 foot 7 weight can roll cast, underhand cast, overhead cast and even single-hand Spey cast with ease.
The best single-hand steelhead fly rod available.

Perfect for swinging flies and nymphing techniques.

Only the best materials and components were used to craft this rod.

Four-piece makes for convenient travel and easy storage.

Best warranty in the business.
Now you can confidently fish smaller waters often overlooked by other anglers with ease and success. Beyond casting performance and fishing function, we didn't neglect the little things like how a real fly rod should look. Along with classic colorings and thread work, we also included the finer things in life like real nickel silver hardware and Cocobolo wood. Enjoy!