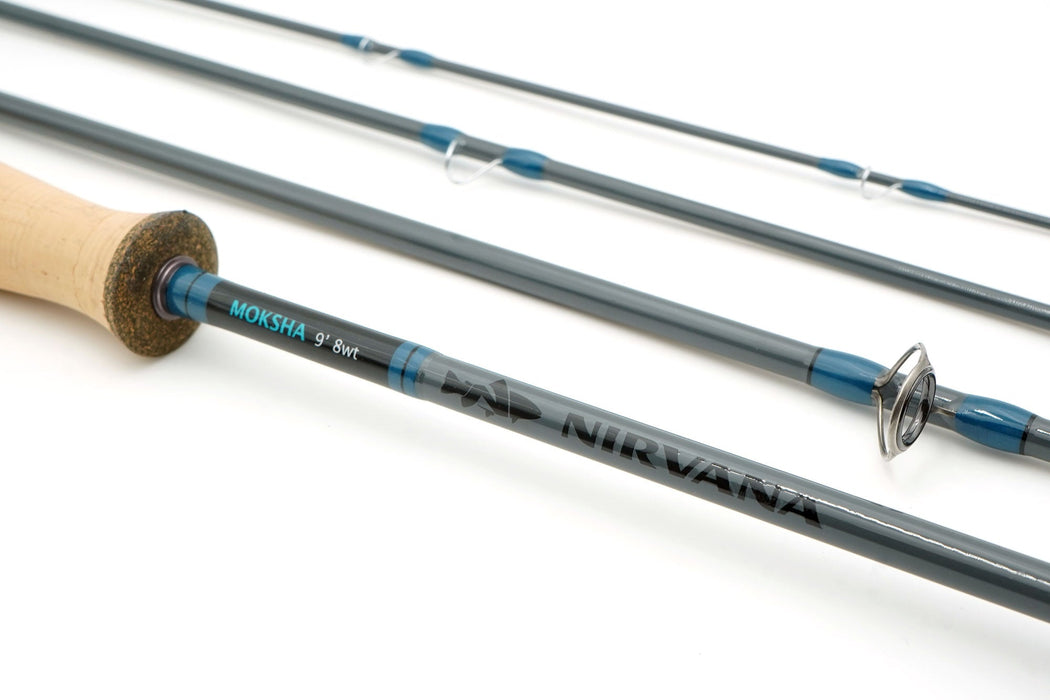 NIRVANA Moksha Fly Rod w/case
Save

13

%
Save

13

%
Original price
$399.99
-
Original price
$399.99
Moksha Graphite Rods

The Moksha Series of fly rods are designed to perform like a rod twice their price point, and bring a whole new expectation to your mid value price expectations. These were designed to give you a better connection to your rod, and fish.  This will help you fine tune the rhythm of your casting stroke, improving casting distance, accuracy, and presentation.  With this you will find a better connection with your rod, and the fish through the sensitive tips, making them a true joy to fish and find your state of Nirvana.
Moksha comes more from Hinduism and is truly another word for Nirvana.  Although they differ slightly, they are very close in meaning.  Moksha in Hinduism is the enlightenment within oneself, or acceptance of self.  We have worked hard with our Korean manufacture and are excited for these rods and believe you will understand why as soon as you place one in your hands.  We believe these rods will most definitely help in finding your state of Nirvana, and connection with yourself, the universe that surrounds you, and a greater sense of peace, joy, and enlightenment. 
Rods In The Lineup
7'6" 3wt 4 piece - 2.3oz
9' 5wt 4 piece - 2.9oz
9' 6wt 4 piece - 4.3oz
9' 8wt 4 piece - 4.3oz
10' 3wt 4 piece - 3.1oz
10' 5wt 4 piece - 3.3oz
Attributes
The Moksha Series of rods incorporates the worlds leading technology, to create an extremely pleasant rod to cast full of versatility.
Softer tip for accuracy and feel
Softer tip with faster butt section adds for great versatility
Faster action gives great sense of control
Light in hand with excellent swing weight
Risk-Free Return Policy
To give you peace of mind we offer a 14 day return policy. With this policy you can return your rod within 14 days as long as it is new like condition, meaning plastic still on the cork, and no blemishes to the rod.  This allows you to put the rod in your hands and know you are getting exactly what you want.  We do this because we believe in the rods, and how much you will love them.  This policy will give you a peace of mind knowing you aren't stuck with something you don't like or want.  Customer is responsible for return shipping.
Lifetime Warranty
One thing we do differently in the glass world is offer an easy lifetime warranty. Instead of making you ship your rod into us for repairs, for a $75 warranty fee we send the replacement parts right to you so you are back to fishing faster.
Backed by a Great Brand, MOONLIT Fly Fishing and Nirvana On The Fly
You have probably seen our brand around social media quite a bit, we have a large following of customers that love to use our products. We are well know for the BEST performing furled leaders on the market and excellent customer service, as well as a great offering of quality barbless hooks loved by many pro fly tyers. We will stand behind this new series of  fly rods just like we do all of our products and we think you will love this rod series.
Heavily Tested & Approved by Many Fly Anglers

We have worked with our ambassadors to test the Moksha in all kinds of conditions, and species of fish.  They have been to Mexico, Puerto Rico, Texas Coast, Arizona, Idaho, and other locations to make sure they will perform.  They have been tested to make sure they will be able to hold up to the tests you will surely put them through.  It has quickly become peoples favorite rods time and time again.
We have also taken them to many fly fishing expos and let potential customers and fly fishing experts test them out and received excellent feedback about how they cast and look. They received praise for how smooth, and effortless they were to handle and cast, along with the craftsmanship and quality of work.
A Few Rod Reviews
Moksha 9ft 5wt Compared to some much more expensive and heavier graphite rods I've fished; even at lighter line weights, this rod is light in the hand and very responsive. Whether casting dries, nymph rigs or small streamers, this rod handled them all very well. Even while casting into the wind. This is a really good rod!
Markus Schlegel
About the NIRVANA ON THE FLY brand name
NIRVANA ON THE FLY brand was created to truly help people find a sense of peace, escape from everyday life, and hopefully a deeper connection with themselves, life, and the universe surrounding them.  In Buddhism and Hinduism Nirvana is a place one finds perfect peace and happiness.  It is a state of perfect being, in all its forms.  When someone achieves a state of Nirvana they have achieved the highest state that they can attain, a state of enlightenment, and all suffering goes away.  You are truly in a state of pure joy and happiness.  Hence the name Nirvana On The Fly is just that pure joy and happiness.  Lots of time, energy, and work go into each product, as well as finding the best manufactures, and quality products to help every angler have a greater sense of peace, joy, happiness, and pure pleasure while using Nirvana On The Fly gear.  We believe that when you find this state you can find greater peace in your life, better balance, and connection with oneself, and those around them. We hope to help create the state of Nirvana in people's lives.