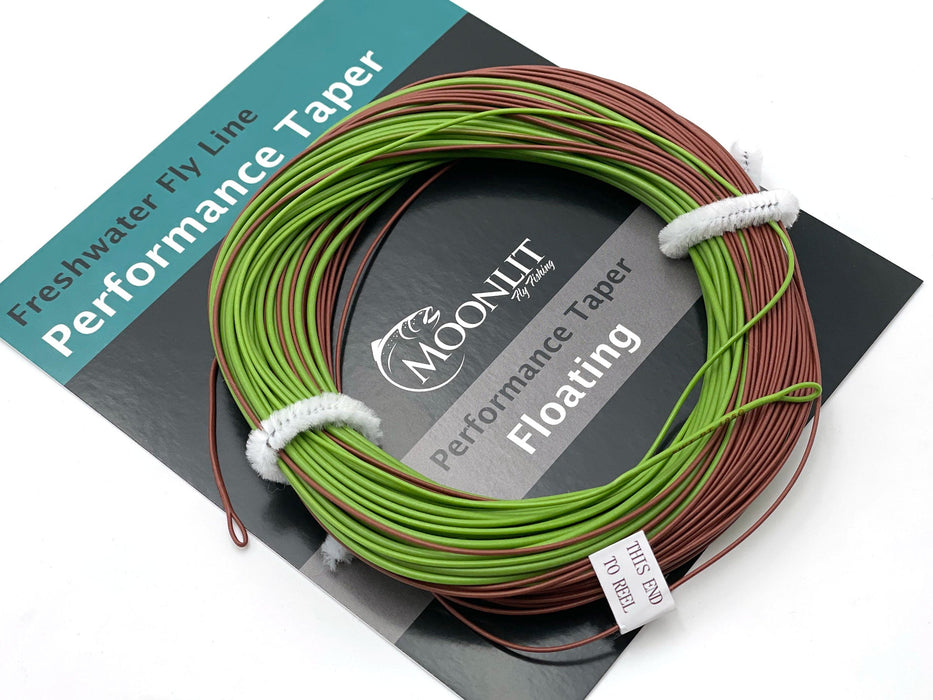 Moonlit Fly Fishing WF Performance Taper Fly Line
Save

31

%
Save

31

%
Original price
$55.00
-
Original price
$55.00
Sale Price $38 saving $17 
Made for Medium-Fast action fiberglass rods to Fast Action Graphite Rods. 
Performance WF Taper Floating Line
The Moonlit Performance Taper Fly Line is made to do just what the name says perform.  This line works great on any Medium Fast Fiberglass action rod to a Fast action Graphite rod.  Don't let the price fool you as this line will perform far past it's price point as you've come to expect with all the Moonlit Gear.  If you are looking for a line that will perform, and shoot line without sacrificing presentation than this line is what you are looking for.
Choose between the two color options Olive/Brown and Peach/Orange to get a color you want. The line is dual colored so you know where the head and running line transition.  This allows you to know where your line is going to optimize its loading.

Performance Fly Line Features
Excellent in tight casting space or casting in the wind. It is a great balance between casting performance and great line presentation.  This makes it a great line choice for tight overgrown streams where you want to shoot line without any false casts.
Amazing line for roll casting.
Designed to load rod and require less false casting making it great in those close quarters.
Comes with a loop on both sides of the line
Laser Engraved for easy line identification
For freshwater fishing.
MODEL CHART
Model
Head length Meter
Head length Feet
Head weight Gram
Head weight Grain
Total length Meter
Total length Feet
MPTWF2
7.4
24.4
5.5
85
26.9
88.5

MPT

WF3
7.4
24.4
7
108
26.9
88.5

MPT

WF4
7.9
26.1
10
154
27.1
89.1

MPT

WF5
7.9
26.1
12
185
27.1
89.1

MPT

WF6
8.3
27.1
14
216
27.1
89.1

MPT

WF7
9
29.9
16
247
27.1
89.1

MPT

WF8
9
29.9
18
278
27.1
89.1

MPT

WF9
9
29.9
19.5
301
27.1
89.1