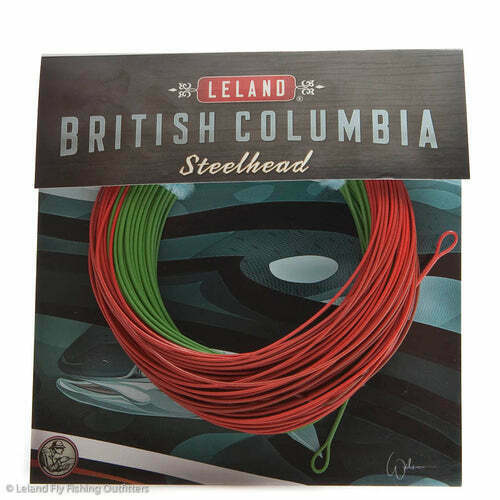 Leland British Columbia 7wt Floating Line
Save

17

%
Save

17

%
Original price
$59.99
-
Original price
$59.99
Product Description
The unique way we deliver our lure (the fly) is the defining attribute of the sport of fly fishing. Although we call this fly casting, the truth is…we are not at all casting the fly. Instead, we are casting the fly line. To many, a fly line is just a necessary component to go fly fishing. To us at Leland, we believe the fly line should be the focal point, as we use it to deliver our fly, mend our drift and land our fish. You bet the right fly line is important.
Over the years, we've sold them all. You name a fly line brand and series and we've probably carried it at some point. Most big brand fly lines entice your interest with performance and technology, promising longer, higher-line speed casts. If your sole focus is distance, maybe a performance fly line is right for you. But, if you actually fish…you might be interested in our offering. We call it the Leland Pliny fly line. We named it after our favorite Sonoma beer...Pliny The Elder…it's that good.
Our goals, when designing this fly line, were efficiency and control. Our efficient fly line profile better transfers your casting energy down the fly line and into the leader, allowing you to cast with far less power and still get the desired results. Our unique profile is certainly part of the secret. The other part is our supple fly line. It forms smoother, more-efficient loops than a contemporary, hard-coated fly line. On the water, this softer fly line is less affected by micro currents…meaning, less mending for you.
It gets better. Our shorter weight forward section makes casting even easier. You only need to control and cast the head. Include the leader and your rod length, and the resulting cast is always forty feet. As any seasoned trout angler knows, forty feet is the magic trout mark for casting. No longer are you required to hold some 47 feet of fly line head in the air before you can efficiently shoot the line. With our Pliny fly line, you'll have easy access to the running line for effortless distance, should you need it.
Our olive green fly line head blends well with any brush-lined trout stream, offering you added stealth when fishing for educated trout. We even worked hard to minimize our fly line's two welded loops. No more clunky casts and you still get super easy rigging, too.
While developing this fly line, we learned a thing or two we didn't expect. Not only is this fly line perfect for anyone just getting into fly fishing for trout, it's a master angler's line, too. We also learned that a truly efficient line works for all angling techniques. Whether dry fly, nymph or streamer fishing, we learned it's not necessary for a technique-specific fly line profile. All you need is an efficiently designed fly line that loves to transfer energy down the fly line. As the mass of the fly or rig increases, all you need to do is increase the line mass…don't change the profile of the line.
All of us at Leland have been fishing our Pliny line for the past two seasons and that's now all we use when trout fishing. We certainly believe in it, but you don't have to take our word…try it yourself.
Please take advantage of combine shipping.   We are happy to offer combine shipping on any/ all of our products and encourage you to take advantage of the offer.