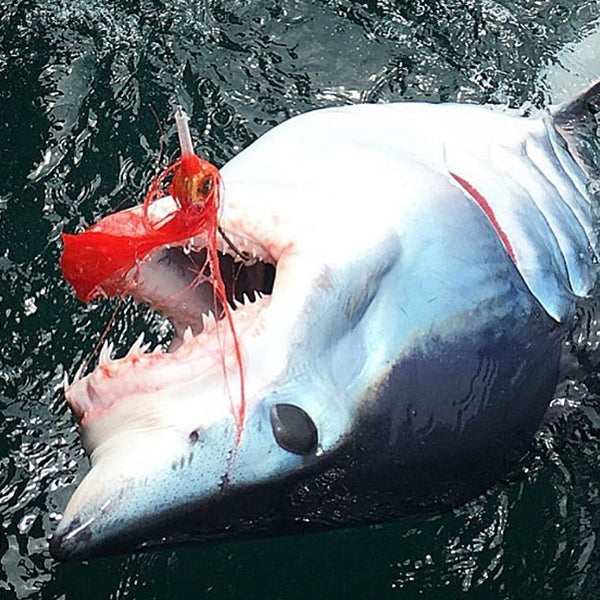 On the Fly Fishing Charters – Mako Sharks On the Fly
From world class summer Mako shark fly fishing, to chasing the speedy tunas of the Pacific, we have the charter for you!
Join Captain Dave Trimble or one of his other experienced guides out of San Diego, California for a day you'll never forgot.  Captain Dave started fly fishing for Makos on the fly in 2002 while working for his good friend Conway Bowman at Bowman Bluewater before starting On The Fly.
Sight fishing for these top predators of the Pacific should be on every fly anglers buck list.  These majestic creatures, with their indigo blue over white coloring, will have your heart racing.  Watch them as they approach the boat fearlessly and present your fly in front of them for a fight of a lifetime.  Once hooked the pure power and speed of these sharks will amaze you.
Full-Day shark fishing trips are 8 hours. A typical day starts with a quick boat ride (usually less than 1 hour) to the fishing grounds. Once you arrive, the captain will prepare and create a chum slick to attract the sharks. Our targeted species are Mako Sharks (May – November), Blue Sharks (year-around) and Thresher Sharks (April-June).
Professional – All of our captains are licensed by the US Coast Guard and state of California as well as fully insured.
Dedicated – Our captains and crew work hard on every charter to provide a positive, memorable experience.
Local knowledge – Our captains have over 75 years combined experience fishing San Diego waters.
Recommended Rods:
While 4 – 6 weights work great for trout these predators require a bit more.  On The Fly Fishing Charters will have the gear you need, but if you are into fishing your own rods, both Red Truck Fly Fishing Co. and Leland Rod Co. have both 10 & 12 weights that will get the job done.
-Red Truck 1090-4 Diesel
-Leland Rod Co. 1090-4
-Red Truck 1290-4 Diesel
-Leland Rod Co. 1290-4