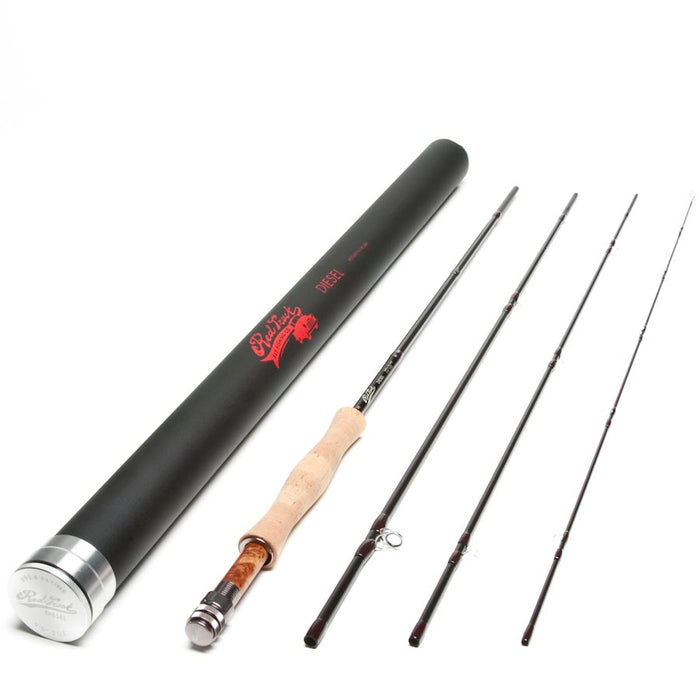 Red Truck Diesel 6wt 9ft Fly Rod, 4 Piece, 690-4
Original price
$409.99
-
Original price
$409.99
Balanced to cast big rigs and a fight big fish. This out fit will make your streamer fishing easier.
--
The 9ft 6wt is your streamer fishing solution, the one best answer for streamer fishing for trout anywhere. From the emerald green waters of the McCloud River to The Upper Sacramento River the Red Truck Balanced Streamer Outfit will make every cast easier. Streamer fishing in California has a lot to do with timing; early morning and late evenings are the most productive times of the day to streamer fish. It is important to get as many good cast as possible to maximize you chances of hooking a meat eating monster.
The Red Truck Diesel "Streamer" Fly Rod:
Our largest trout rod, at 9 foot for a 6 weight, this rod is balanced to cast large streamers effortlessly to their target. Sick and tired of the chuck and duck? We were! Be in control with the Red Truck Streamer Outfit.



A great rod starts with the grip. Red Trucks full wells grip is not only ergonomic but enhances feel and efficiency of casting and fishing. Built with top quality cork.


Matte finished reducing rod glare, Reflection on the water caused from shiny rods, which can spook fish.


Sanded and precision fit ferules, where the rod pieces come together, allow for repairs in just 3 days and eliminates the need for you to ship the entire rod back to us.


Effortlessly present large streamers on target.


Powerful mid section and butt for ease of picking up heavy flies.


Hand made with incredible craftsmanship and premium components.