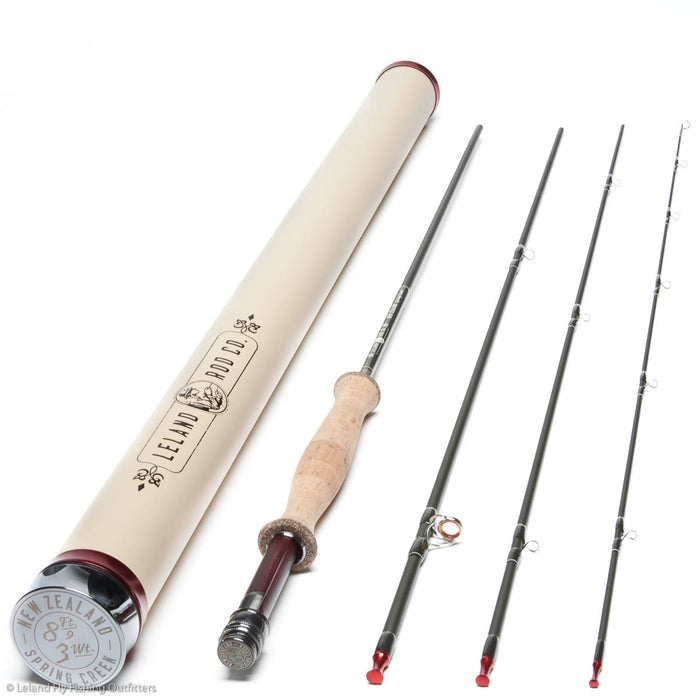 New Zealand Spring Creek Fly Rod 389-4 8' 9" 3wt
Sold out
Original price
$695.00
-
Original price
$695.00
Clear water and educated trout demand the casting performance of our New Zealand Spring Creek fly rod.
--
New Zealand Spring Creek Fly Rod:



Line Size: 3


Length: 8 feet, 9 inches


Sections: 4


Blank color: Olive


Reel Seat: Darkened nickel silver, uplocking


Spacer: Cocobolo


Guides: Blued chrome light steel wire


Handle: Proprietary Leland Grip


Action: Adaptive, Fast


Spring creek trout fishing is arguably the most challenging genre of fly fishing. When educated trout, living in crystal clear water, have time to inspect your offering...all must be perfect. Casting with a longer leader can be a challenge, but our New Zealand Spring Creek rod was designed to efficiently "turn-over" these lengthy leaders, even at distance, then offer up the most subtle presentation possible. You'll still need a drag-free drift and the right fly, but step one is always getting your offering to the mark. That's exactly why our Spring Creek rod deserves to exist.
Crafted from the finest materials and appointed with only the best components, this fly rod not only performs as designed, but looks brilliant on a rod rack. The finest cork, cocobolo wood and darkened nickel silver adds to the overall enjoyment of fishing a fly rod of this caliber. Nothing from a big brand fly rod company can compare. If you enjoy fishing spring creeks and smaller streams, this is your new favorite fly rod.




Perfect fly rod for lighter presentations and spooky trout.




The ultimate fly rod for fishing spring creeks.




Four-piece configuration makes for easy travel and storage.




Only the best materials and components used.




Top-quality aluminum rod tube with rod sock included.